A War Correspondent Fights Back
"I am so bummed," says CBS News chief foreign correspondent Lara Logan, sounding genuinely glum. It's a Friday night in February, and after a long day editing film in Manhattan, she rushed to JFK airport and just missed her target: The 8 p.m. shuttle home to Washington, D.C., where she lives with her husband and kids Joseph, 4, and Lola, 3.
"That means I won't be able to put my babies to sleep," she says. "Which is like the worst thing that can happen to me on any day."
Logan's career was never a home-by-dinner gig. She spent the '90s and the naughts catching planes to every deadly conflict, from Kosovo to Congo. "We were firemen reporters: As soon as something happened, we'd go," says her friend and fellow war correspondent Glenda Gaitz, now a news producer in Sydney, Australia.
Logan's Everymom sentiment catches the ear, not only because of the demands of her profession, but because she knows all too well how a day can go very, very wrong.
On Feb. 11, 2011, with Egypt rocked by protests and demonstrations, a news crew led by Logan and her longtime producer, Max McClellan, flew back to Egypt. They'd left the country the week before after being arrested by the military, blindfolded, zip-tied and detained overnight.
It had been a scary episode in Logan's relatively young marriage; home with their baby and preschooler, her husband of less than three years, Joseph Burkett, had tried and tried to reach her. "My husband sat in our living room," Logan says, "not knowing if his wife was coming home. I have to be cognizant of that." But with Hosni Mubarak's 30-year regime toppling, she and the others couldn't stay away.
Right after their return, it seemed they hit the news jackpot. "As we were walking through Cairo airport the word came on our BlackBerrys that Mubarak had stepped down," McClellan says. "Driving in, it was a scene of euphoria—people out in the streets, flags waving, horns honking, fireworks."
On film, Logan is seen jogging toward the celebratory crowd in Tahrir Square, obviously thrilled to be witnessing the historic moment. "It looked like a party," she said later. But after about an hour of reporting, the party turned dark. When the battery on a camera went out, McClellan and his cameraman looked down to swap it out. One of the crew's Egyptian guides, standing with Logan about 15 feet away, heard a voice say, "Let's take her pants off." Then the crowd surged.
Logan was torn from her crew, and, according to the grim statement CBS released later, subjected to "a brutal and sustained sexual assault and beating." There were hands "grabbing my breasts, grabbing my crotch, grabbing me from behind," she said later. For an excruciating 25 minutes, they dragged her along, beat her, tore at her clothes, yanked at her hair and her limbs. But soon all she could feel, she said, was "the sexual assault… their hands, raping me over and over and over again."
"I realized that that was how I was going to die," she says now. "I'm not someone who lies down. But I was struggling to breathe, I was naked, they savaged my body. There was very little left of me." Logan survived only because she somehow ended up among a group of abaya-clad Egyptian women camped out by a fence who closed ranks around her long enough for baton-wielding soldiers—alerted by the frantic crew—to extract her from the crowd and wrap her in a blanket.
"Initially, I thought that she'd been through the equivalent of an incredibly brutal fight: beaten up, stepped on, pushed over, slapped," McClellan says. "Just that is terrible. We go out on shoots all the time all over the world; that stuff doesn't happen. I had no idea of the assault component until we were back at the hotel, and she started describing it. That was a life-changer."
A couple of days later Glenda Gaitz would see her best friend's face flash onscreen in her newsroom in Sydney. "That's my friend Lara!" she said happily.
"Have you heard what they've just said?" a colleague responded. "She's been sexually assaulted in Egypt."
Logan was flown to a Washington hospital, where she approved the CBS news release verifying her assault, including its sexual nature.
"It was important to me that people understood that I wasn't afraid to talk about this, because there are consequences to that," Logan says today. "But I was braced for criticism. Max and I even talked about it, early on: 'I'm so glad that you were in a big jacket and cargo pants from Old Navy so that nobody can say that you invited this.' I mean, isn't that terrible? And there were people [who intimated that], make no mistake. They didn't come out directly, but I'm not stupid."
Her return home, she says, was a blur. "I was really shell-shocked, and there was a lot going on," Logan says. "I had reporters outside my front door; I had security guys following me; my husband worried about me every time I left the house. My sister came, my brother came, my best friend [Glenda]. Honestly, it took weeks for me to process that I was still alive."
Such is the power of maternal guilt that during those terrible moments in Egypt she had chided herself. "I thought, 'I can't believe that I'm just gonna give up,' " she'd say later. "What would my children hear about my death? I wanted them to know that their mother never gave up. That I fought to the end for them." Once home again, she reveled in her family: "I just used to look at my children in amazement, and be almost elated at times because I still had a chance to be with them."
Gaitz describes the aftermath: "There was such tension in the house, but also just millions of flowers and gifts from people all over the world. It was overwhelming." President Obama called to express his support. Gen. David Petraeus and Tom Brokaw sent notes, as did a group of women from rival ABC News, including Diane Sawyer and Barbara Walters. But most touching to Logan, she says, were the letters from ordinary people sharing their own stories.
"My decision to be honest about what really happened to me affected a lot of people," she says. "And I know that because of the tens of thousands of letters I got. That gave me great comfort. Nobody should have to carry that burden in secret or in shame."
Getting back to work was another issue. Her statement had made Logan a news story. When her boss, Jeff Fager, who had just been named chairman of CBS News, had lunch with her in D.C., he gave her a pitch she knew well: She should tell her story on 60 Minutes.
"I agreed with him," Logan says. "I needed to talk about what happened, but we didn't want it to be like, 'Every time you turn around, there she is going on about her attack again.' So I'd talk about it just once."
McClellan describes Logan as "brutally honest." "If you're not carrying your weight or you're missing, if you're dropping balls, she'll be all over you to tell you that that's happening," he says.
So after a few weeks at home, Logan took herself to task. "There was definitely a moment where I was like, OK, c'mon. If you just languish at home and live in this moment forever, you're never gonna get beyond this. Literally, that was the process in my head: Get over it. There are people who this happens to all over the world and they don't have the president of the United States calling them to see if they're OK." So Logan got back to work.
With what sounds like relief, Logan says her assault is not a continuing issue at the CBS offices. ("To be honest, everybody just moved on," she says with a laugh. "It was like, 'It happened, and it's just gone.' ") Gradually she's gotten back out there. She's reported from Uganda, South Sudan, the Central African Republic, Mali. She went back to Afghanistan. Still, when asked in January how she manages to keep visiting dangerous places, she indicated some anxiety. And there are places she won't go now. More things she won't do.
"She has changed," McClellan says. "She's as committed truly as she was the first time I met her to go do the most difficult stories in the best possible way. But I would say there's an added pause now. Is it going to be worthwhile? Or are we going into an environment to get part of a story—in exchange for a tremendous amount of risk?"
In a New York Times profile published last year, Fager put it another way. Logan, he said, "doesn't have the same drive to be in the front lines because of her children."
"He said that?" Logan says when it's read to her. "Jeff and I haven't talked about it, but I'd say to him, 'It's not that I don't have the same drive, it's just that I have a drive to be there for my children and to be part of their lives that overwhelms everything else.'
"Not going is incredibly hard," she adds. "I have to fight every instinct, every conviction that is carrying me to those places. You know, I would really like to have been part of the Syrian conflict from the beginning, but I haven't even been. That's a reality that I have to face, and it's a sacrifice that I had to make."
The concession, though, isn't to her attackers in Egypt, she says. It's to her kids, her family. "Whether or not Egypt had happened, I still would not be able to disappear for months at a time," she says. "I mean, I kill myself to get home from a shoot as soon as possible. I will fly to New York and back in less than 24 hours just to make it home for my children, so can you imagine me being gone for months? That's never gonna happen. That's the reality of being a mom, and I'm OK with that. As hard as it is, I would not have it any other way.
"I deliver what I need to deliver," she finally says. "People know I work hard, I know my stuff, and they can rely on me. [But] they also know that if I miss the last flight home and I'm not going to be able to put my babies to sleep, that I'm going to be a beast."
And with that, her flight is called. She's making her way onto yet another plane. She's going home.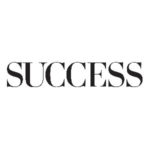 SUCCESS is your guide for personal and professional development through inspiration, motivation and training.