8 Things That Motivate Tracy Sandler
Who?
Tracy Sandler, founder & CEO of Fangirl Sports Network
Where?
Southern California
What?
In 2015, Tracy Sandler started a fansite covering her beloved San Francisco 49ers. This led to her becoming a member of the 49ers' press corps, where she reports live from the field and the locker room, attends press conferences, and covers community outreach events. After receiving an overwhelmingly positive response, she nationalized her site, creating the Fangirl Sports Network, a digital media company reporting on every professional team in the NFL and NBA, with special coverage of accomplished women making waves in the sports industry.
One thing I try to do every day is…
Get some type of workout in! For me, working out is as much about my mental health as my physical health. Whether it's 20 minutes or an hour, that time is my time to release stress and take a little time for me. I recently got a Peloton bike which makes finding the time to work out a lot easier.
I improve myself…
Through self-reflection. In difficult situations, I reflect and see if I could have handled it differently, if I was justified or if my reaction was warranted. If I'm not sure, I have a couple of trusted advisors that will be honest with me.
I feel most alive when…
I am covering a game. I've worked really hard to get where I am, so when I'm at a game, covering the team I've been a fan of since I was a little girl, it really is the absolute coolest feeling. Second, when I'm with my nieces and nephews. I have two nieces and two nephews, and they are the lights of my life.
"In difficult situations, I reflect and see if I could have handled it differently."
My favorite inspiring quote is…
49ers' cornerback Richard Sherman said something this past season that really resonated with me. He said, "The best ability is dependability," and he's right. Talent and skill sets may set you apart, but showing up is such a big part of it.
To avoid distractions, I…
Put my phone on Airplane mode and focus on the task at hand.
I handle negativity by…
I try to follow The Four Agreements by Don Miguel Ruiz. As he says in the book, even things that seem really personal are not. They come from another person's experiences, insecurities and negative feelings about themselves. As long as I've behaved and am living my life in a way that I am comfortable with, I am happy.
One thing that is difficult for me, but I enjoy is…
Giving back to the community. I say it's difficult, because it is hard to hear the stories of and see firsthand those who have been mistreated or have not been given a fair chance in life through no fault of their own. I enjoy it, because I want to be able to give back and do my part to help those who need it.
I define success as…
Being content with where you are and what you are doing. Do you enjoy going to work? Are you trying to help others in the process? At the end of the day, do you feel accomplished? If the answers are yes, you are successful.
Related: Justin Baldoni: Constantly on the Lookout for Inspiration

This article originally appeared in the May/June 2020 issue of SUCCESS magazine.
Photo courtesy of FSN
As an Amazon Associate, SUCCESS earns from qualifying purchases.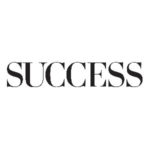 SUCCESS is your guide for personal and professional development through inspiration, motivation and training.