6 Ways Leaders Can Make a Positive Impact in the Workplace
Every employee contributes to a positive workplace culture. Yet, managers and executives hold a unique position within your organization. They can spearhead, draft, implement and guide policies proven to increase company morale, satisfaction, retention, overall well-being and productivity. Each of these serve an overall social good while also lowering costs and increasing productivity. That is, a positive company culture makes your workplace healthier, happier, more creative and an overall better place to work. Let's look at some of the top ways leaders can make a positive impact in the workplace.
Enhance workplace culture with an employee assistance program.
A well-implemented Employee Assistance Program (EAP) will reduce absenteeism while increasing productivity. In fact, 93% of companies offer an EAP, according to a 2019 study by DMEC. But what is an EAP?
An EAP assists employees through counseling and related services. Issues addressed may include grief and loss, financial problems, depression and much more. For instance, many companies voluntarily or by law implement drug screenings. But these policies alone offer few solutions beyond punitive measures. An EAP assists employees through preintervention services before substance misuse takes root. That is, they address employee wellness and well-being to mitigate risk of on-the-job impairment
Similarly, an EAP may assist employees with trauma suffered from workplace accidents, violence or misconduct such as bullying. The benefits can be enormous. For instance, the EAP offered by Health and Human Services found a 98% user satisfaction rate and a nearly two to one return on investment. However, only "47% of workers with access to an EAP have used it in the previous five years," according to a 2020 study by Unum, leaving a wide opening for positive impact.
Involve employees in community initiatives.
Philanthropic community initiatives provide numerous benefits. Routinely giving back helps those in need, raises your visibility, calls attention to important issues, improves your brand and more. They may take the form of scholarships, food drives, or Environmental, Social and Governance (ESG) investments. Simply, corporate philanthropy improves the community and your standing in it. But are they making an impact in your workplace?
I once worked in marketing for an emergency vehicle manufacturer. The president held an event for disabled veterans. While I was already proud of this work, involving me in the press release and in serving meals made me truly feel a part of our mission. Connecting your staff at a grass-roots level in your company's altruistic initiatives provides a great opportunity that is often missed. It builds upon corporate pride, camaraderie and a sense of belonging
Employees want perks that improve quality of life.
Despite concerns about how we will thrive during a recession and fading economic growth, a tight labor market persists. Companies continue to attract their best employees with higher pay, health benefits and perks such as daycare facilities. And, as with your clients, retention is just as important (and more cost-efficient) as recruitment. But are there simple, cost-effective benefits that also make an impact?
Younger employees in particular seek perks that add to their quality during the workday. After all, work is how they spend a third or more of their day. Perks such as professional development are highly-sought while also delivering a clear return on investment for your company. Similarly, game rooms or other communal recreation areas not only reduce stress and increase productivity, but they provide an opportunity for people from different departments or divisions to share ideas – more on that in a moment!
Small, surprise perks boost morale, too. Corporate gifting has become popular for clients and employees and shows your appreciation. Employee gifts may be given on holidays, birthdays or as a congratulatory gesture as part of an employee recognition program. Corporate gifting services such as Packed with Purpose provide more than fun and tasty gift boxes to boost morale and increase corporate devotion. Their gift boxes say something about you, too, by providing goodies created by minority and women-owned businesses dedicated to sustainability and under-resourced workforce development.
Encourage interdepartmental collaboration and communication.
Interdepartmental collaboration is a form of diversity and inclusion, and it helps your company thrive for similar reasons. Consider a software team assigned a particular set of parameters. They work hard for a year so that every block is checked and their delivery meets every spec. This is the verification of the design. Then, in the consumer testing stage—validation—the product fails utterly. Time and money are lost, and morale across your institution sinks to new lows. Some companies never recover.
This situation may have been avoided utterly—and cost-free—through interdepartmental collaboration. A marketing lead, who has done the research on consumer needs, would have seen design issues from the outset. Encourage interdepartmental collaboration and recreation at every turn. Along with formal collaboration, create and encourage cross-departmental interaction such as game rooms, after-hours gatherings and retreats to get people from different departments and backgrounds talking.
Hire a professional guest speaker for your next corporate event.
Well-planned conferences, corporate retreats and other institutional events can have a lasting impact on your team. For many, what starts as some easy time away from the daily grind becomes more than a simple break from their tasks. These events get the mental juices flowing with new ideas and new connections that span far beyond the normal office spaces. They connect your staff with new approaches and ideas that can have an enormous impact in the workplace.
Booking a professional keynote speaker adds a sense of weight and importance to your company gathering plus so much more. The best motivational speakers can literally change lives, inspiring your teams with refreshed enthusiasm, new perspectives, best methods for outcomes and a sense of a greater, global community. Top professional speakers can speak to particular topics such as personal branding, innovation and corporate culture with an ability to tie them together through inspiration and leadership development. Whether they appear virtually for a corporate retreat or in-person for a major conference, professional speakers will deliver the lasting impact you need.
Make yourself accessible to employees while remaining authentic.
Just as product development and marketing teams may lose touch with each other, management and executive leadership can become isolated from its staff. I have often experienced a hiring process where I meet officials who take an avid interest in me—my hobbies, my dreams, my five- and 10-year goals. Then, I rarely saw them again except in passing or during their next presentation.
Flattening your communications structure impacts the workplace through increased collaboration and problem-solving. That does not necessarily mean delayering your entire corporate communications structure. It can simply mean taking as much interest with an employee as you did in the hiring process, perhaps on a scheduled monthly basis. It also means remaining accessible in company gatherings and events.
Remain accessible. Encourage feedback. Listen attentively. Master the art of communication while displaying confidence. Companies often refer to their staff as a team or even as family, so engage them with the same level of interest and empathy. Lead by example and show that you are willing to roll up your sleeves—not just for a groundbreaking photo-op among fellow business leaders, but at the company picnic, too. Often, it's an administrative assistant or IT professional who has an insight that your inner circle either doesn't know or won't tell you.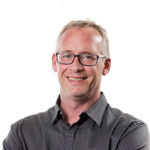 Bryan enjoys the digital space where arts and technology meet. As a writer, he has worked in education, health and wellbeing, and manufacturing. He also assists smaller businesses in web development including accessibility and content development. In his free time, he hikes trails in central Florida.