6 Productive Ways to Start Your Day
---
What's the first thing you do when you wake up every morning and why?
---
I take a 2.5-mile walk with my husband and our dog. The beginning of our walk is pretty quiet as both of us are still waking up. By the end of the walk, I feel fully awake and ready to face whatever the day brings with the support of my partner and biggest fan.
—Kimberly Jones, CEO and president of Butler/Till
---
I have a 3-year-old at home, so I'm often tending to him. Between that and getting ready, my mornings are spent reading industry news. Our world is constantly evolving and as a co-founder of a FinTech company, I must ensure I'm aware of trends so we're best serving our investors, employees and customers.
—Kathryn Petralia, co-founder of Kabbage, Inc.
---
I figure out what the most important things I have to do that day are, whether they're for my family or my business. Sometimes the list is too long, so prioritizing is super important. I'm a firm believer in always staying busy to have a full life and to keep all projects moving forward.
—Georgianna W. Oliver, founder of Package Concierge

---
I like to turn on some music. I find that it helps get me into the right mindset to take on the day. Once the music is going, I drink a glass of water to hydrate and then move on to coffee—then I answer emails and make school lunches before my children wake up.
—Heidi Hertel, founder of Fitz Frames
---
I say what I'm grateful for, even before I get out of bed or look at my phone. The first moments of the day affect the rest of the day.
—Arel Moodie, founder of Art of Likability
---
---
---
The first thing I do when I wake up is meditate for 15 to 20 minutes. This helps ground me in the day and gives me an energy boost.
—Kerry Guard, COO of MKG Marketing




Read next: How to Create a Bulletproof Morning Routine
---
This article originally appeared in the May/June 2020 issue of SUCCESS magazine.
Photo by Kelly Sikkema/Unsplash.com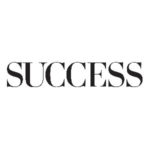 SUCCESS is your guide for personal and professional development through inspiration, motivation and training.