18 Minutes to Anywhere: 6 of Our Favorite TED Talks
Colin Camerer—A specialist in neuroscience, game theory and monkeys, he ties them all together. A bit of a boy genius, Camerer earned a doctorate in decision theory from the University of Chicago at 22. He posits that the mind is neither perfect, nor perfectly rational, while explaining his research into the cerebral limitations of humans and monkeys.
Hyeonseo Lee—She speaks of her escape from North Korea, and arrival to China in 1997. Lee is a prominent activist for other North Korean defectors struggling to forge new lives in South Korea, especially in such a fast-paced city as Seoul.
Richard Turere—A 13-year-old living in a Masai community, he discusses his "invention that made peace with lions." Turere applied his early tinkering with his family's appliances to a set of "lion lights," essentially a fence made from such elemental materials as flashlight parts to discourage lions from attacking his family's cattle herd.
Jessica Green—A trained ecologist and engineer, Green embraces the vital role germs play in our health and daily lives, and using animation, art and film, casts a positive light on their invisible world. She endorses buildings designed to allow trillions of microorganisms to mix and mingle with each other as well as humans.
Skylar Tibbits—An artist and computational architect with a perch at MIT's Self-Assembly Lab, he discusses "4D printing," the creation of objects that can alter themselves over time with their own brand of DNA.
Ken Jennings—The Jeopardy ace, who won a record 74 straight games on the answer-in-the-form-of-a-question trivia show, talks of the lesson in humility he was dealt by IBM's intelligent supercomputer, Watson.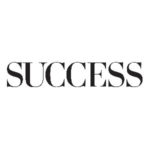 SUCCESS is your guide for personal and professional development through inspiration, motivation and training.