17 Motivating Quotes About Becoming Rich
Have you been thinking like a billionaire? According to a lot of financial giants, becoming wealthy starts in your mind—not in your wallet. To get rich, you have to believe something so incredibly far from your reach, with a little hard work and dedication, is actually possible to grab.
Passion, great ideas and a ton of discipline are the foundation of wealth, so before you chase a fortune, build a wealthy mindset with these 17 motivating quotes.
Related: 3 Keys to Becoming Wealthy
1. "It's simple arithmetic: Your income can grow only to the extent that you do." —T. Harv Eker
---

2. "Formal education will make you a living; self-education will make you a fortune." —Jim Rohn
---

3. "The only difference between a rich person and a poor person is how they use their time." —Robert Kiyosaki
---

4. "The more you learn, the more you earn." ―Frank Clark
---

5. "Before you can become a millionaire, you must learn to think like one. You must learn how to motivate yourself to counter fear with courage." —Thomas J. Stanley
---

6. "You can't work three hours a week and make $100,000. Get rich quick doesn't work. Crock pot mentality always defeats microwave mentality!" —Dave Ramsey
---

7. "An investment in knowledge pays the best dividends." —Benjamin Franklin
---

8. "Fortune sides with him who dares." —Virgil
---

9. "Rich people have small TVs and big libraries, and poor people have small libraries and big TVs." —Zig Ziglar
---

10. "I have about concluded that wealth is a state of mind, and that anyone can acquire a wealthy state of mind by thinking rich thoughts." —Edward Young
---

11. "All riches have their origin in mind. Wealth is in ideas—not money." —Robert Collier
---

12. "Empty pockets never held anyone back. Only empty heads and empty hearts can do that." —Norman Vincent Peale
---

13. "Every day is a bank account, and time is our currency. No one is rich, no one is poor, we've got 24 hours each." —Christopher Rice
---

14. "What's keeping you from being rich? In most cases it's simply a lack of belief. In order to become rich, you must believe you can do it, and you must take the actions necessary to achieve your goal." —Suze Orman
---

15. "Wealth is largely the result of habit." —John Jacob Astor
---

16. "All achievements, all earned riches, have their beginning in an idea." —Napoleon Hill
---

17. "Today the greatest single source of wealth is between your ears." —Brian Tracy
Related: 19 Wise Money Quotes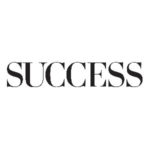 SUCCESS is your guide for personal and professional development through inspiration, motivation and training.