10 Ways to Make This Year Everything You Want It to Be
1. In times of uncertainty, show up.
If you want your business or project to succeed, you have to be a visible, in the trenches leader. This week, make yourself available where the action is, and note how people rally to your commitment.
Read: What It Takes to Reinvent: 3 Lessons You Can Learn From Restaurants in the Pandemic
2. Ask for help to reach your goals.
Help rarely finds the person who doesn't ask for it. There are countless resources and mentors available to help you reach your goals in business and in life. Make leveraging those part of your plan for 2021.
3. Learn what motivates you.
The next time you find yourself in flow—that marvelous state when you're flying through your work at the highest level—take a pause to note the conditions that allowed you to become so motivated. Repeat that.
4. Don't let chaos cloud your mindset.
This too shall pass. Today's chaos will be tomorrow's memory. So don't let the moment cloud your judgment. As you set goals for 2021, don't allow the pandemic to be a factor shaping your plans.
5. Confront disruption by adapting.
Know that times of upheaval are ripe for disruption. Heed Mark Cuban's advice and create a strategy to adapt to the technologies of tomorrow, either challenging your competition or insulating yourself.
Read: Forget 2020: Mark Cuban's Secrets to Focusing on the Future
6. Align your work to your purpose.
Suze Orman has dedicated her life to helping other achieve financial independence. As you look ahead to next year, ask yourself if your work is aligned to your purpose. Adjust accordingly.
Read: Suze Orman Wants to Help You Improve Your Finances in 2021
7. Set priorities, and start at the top.
The ability to set priorities is vital to a successful life, and a successful day, for that matter. Try a small experiment next week by ranking the importance of the items you must get done. Start at the top.
8. Take care of yourself to stay healthy.
Taking care of yourself is the first step to taking care of others. Make sure you're following the basic guidelines to keeping healthy and maintaining your immune system, like getting a flu shot.
9. Remember, you can control your attitude.
Self-assessment is a crucial part of success. Whatever 2020 has brought you, spend an hour journaling about the ways you reacted. Know that your attitude and response is all you can control.
Read: The World Goes Round: On Life, Death and Keeping Busy in the Year That Changed Us
10. Set a tangible goal to get the result you want.
Some of us have tendencies to repeat the same New Year's Resolution every January, and never get very far. Take a contrarian approach this year, and set a tangible goal that will lead to the result you want.
Read: 16 HARD (but Totally Doable, Totally Worth It) Resolutions You Haven't Tried and Won't Fail

This article originally appeared in the January/February 2021 issue of SUCCESS magazine.
Photo by Pheelings media/Shutterstock.com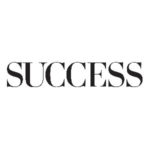 SUCCESS is your guide for personal and professional development through inspiration, motivation and training.