10 Science-Backed Ways to Be Happier Right Now
You want success. You might even want success because you believe that it will bring you happiness. But that's backward, because being happier makes it easier to become successful.
Related: What Happy, Successful, Optimistic People Know About Life
Happy people are typically more relaxed and experience less stress and anxiety. Stress and anxiety can block clarity and decrease focus, which makes it extremely difficult to maintain the habits that can help make you successful. In addition, happiness is likely to make you more outgoing and willing to try new things. It gives you a positive attitude and an openness to help you meet key people and discover new techniques to push you farther faster.
Being a happy person also takes away feelings of emptiness that can crop up when things don't go as planned. Everyone knows the journey to success is a zigzagging road, not a straight path. This means there will be setbacks and failures along the way, but being happy can give you a better perspective and help you see that you can and will still be successful.
The best way to get everything you want is to become happy first, and then invite success into your life with your happy habits, thoughts and attitudes. Against what many people might have come to believe, happiness is not an accident. Happiness is intentional, and anyone, anywhere, can learn to be happy.
Related: 17 Quotes to Help You Find Your Happiness
If you want to be happier to be more successful, check out the infographic below.
—Tom Casano
Source: LifeCoachSpotter.com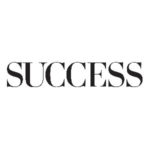 SUCCESS is your guide for personal and professional development through inspiration, motivation and training.